Acupuncture. Scientific based evidence.
The World Health Organization (WHO) serves as the authority for health and health care within the United Nations system and is leader on global health matters. In addition to playing a key role in medical research, establishing health care standards and policy, the WHO also monitors and assesses emerging trends in global health.
In 2003, the WHO published a review of clinical trials of acupuncture,Acupuncture: Review and Analysis of Reports on Controlled Clinical Trials : http://apps.who.int/medicinedocs/pdf/s4926e/s4926e.pdf
As a result of this publication, the WHO recognizes 28 diseases, symptoms, or conditions for which acupuncture has been proven to be an effective form of treatment. These include:
ADVERSE REACTION TO RADIOTHERAPY AND CHEMOTHERAPY
ALLERGIC RHINITIS
HAY FEVER
BILLIARY COLIC
DEPRESSION
DYSTENTERY
ACUTE BACILLARY
DYSMENORRHEA
EPIGASTRALGIA
FACIAL PAIN
HEADACHE
HYPERTENSION
HYPOTENSION
INDUCTION OF LABOUR
KNEE PAIN
LEUKOPENIA
BACK PAIN
MALPOSITION OF FETUS
MORNING SICKNESS
NAUSEA
VOMITING
NECK PAIN
PAIN IN DENTISTRY
PERIARTHRITIS
POSTOPERATIVE PAIN
RANAL COLIC
RHEUMATOID ARTHRITIS
SCIATICA
SPRAIN
STROKES
ELBOW DISEASE
The WHO also recognizes acupuncture´s therapeutic effects over 55 DISEASES, symptoms or conditions
Among others, we include here, as an example, one of the hundreds scientific researches confirming the acupuncture works:
Acupuncture modulates the limbic system and subcortical gray structures of the human brain: Evidence from fMRI studies in normal subjects
Kathleen K.S. Hui1,2,*,
Jing Liu2,
Nikos Makris3,
Randy L. Gollub1,4,
Anthony J.W. Chen1,
Christopher I. Moore1,
David N. Kennedy3,
Bruce R. Rosen1and
Kenneth K. Kwong1
Article first published online: 16 FEB 2000
Abstract
Acupuncture, an ancient therapeutic technique, is emerging as an important modality of complementary medicine in the United States. The use and efficacy of acupuncture treatment are not yet widely accepted in Western scientific and medical communities. Demonstration of regionally specific, quantifiable acupuncture effects on relevant structures of the human brain would facilitate acceptance and integration of this therapeutic modality into the practice of modern medicine. Research with animal models of acupuncture indicates that many of the beneficial effects may be mediated at the subcortical level in the brain. We used functional magnetic resonance imaging (fMRI) to investigate the effects of acupuncture in normal subjects and to provide a foundation for future studies on mechanisms of acupuncture action in therapeutic interventions. Acupuncture needle manipulation was performed at Large Intestine 4 (LI 4, Hegu) on the hand in 13 subjects [Stux, 1997]. Needle manipulation on either hand produced prominent decreases of fMRI signals in the nucleus accumbens, amygdala, hippocampus, parahippocampus, hypothalamus, ventral tegmental area, anterior cingulate gyrus (BA 24), caudate, putamen, temporal pole, and insula in all 11 subjects who experienced acupuncture sensation. In marked contrast, signal increases were observed primarily in the somatosensory cortex. The two subjects who experienced pain instead of acupuncture sensation exhibited signal increases instead of decreases in the anterior cingulate gyrus (BA 24), caudate, putamen, anterior thalamus, and posterior insula. Superficial tactile stimulation to the same area elicited signal increases in the somatosensory cortex as expected, but no signal decreases in the deep structures. These preliminary results suggest that acupuncture needle manipulation modulates the activity of the limbic system and subcortical structures. We hypothesize that modulation of subcortical structures may be an important mechanism by which acupuncture exerts its complex multisystem effects. Hum Brain Mapp 9:13–25, 2000. © 2000 Wiley-Liss, Inc.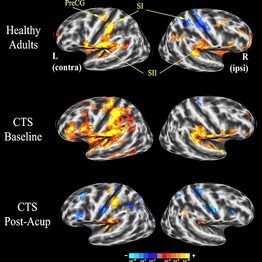 A specialized MRI scan shows the effects of acupuncture. The top two images show the brain of a healthy subject. In the middle two images, a patient with carpal tunnel syndrome registers pain (indicated by red and yellow). The bottom images show the calming effect (indicated by blue) in the brain after acupuncture. Vitaly Napadow
MORE INFORMATION: visit our website  www.vetyvet.com